Legal Crypto

Investigation:


Get Funds Back

Submit an application now and expert professionals will promptly examine your materials and initiate a crypto-investigation to retrieve your funds.

Apply case on platform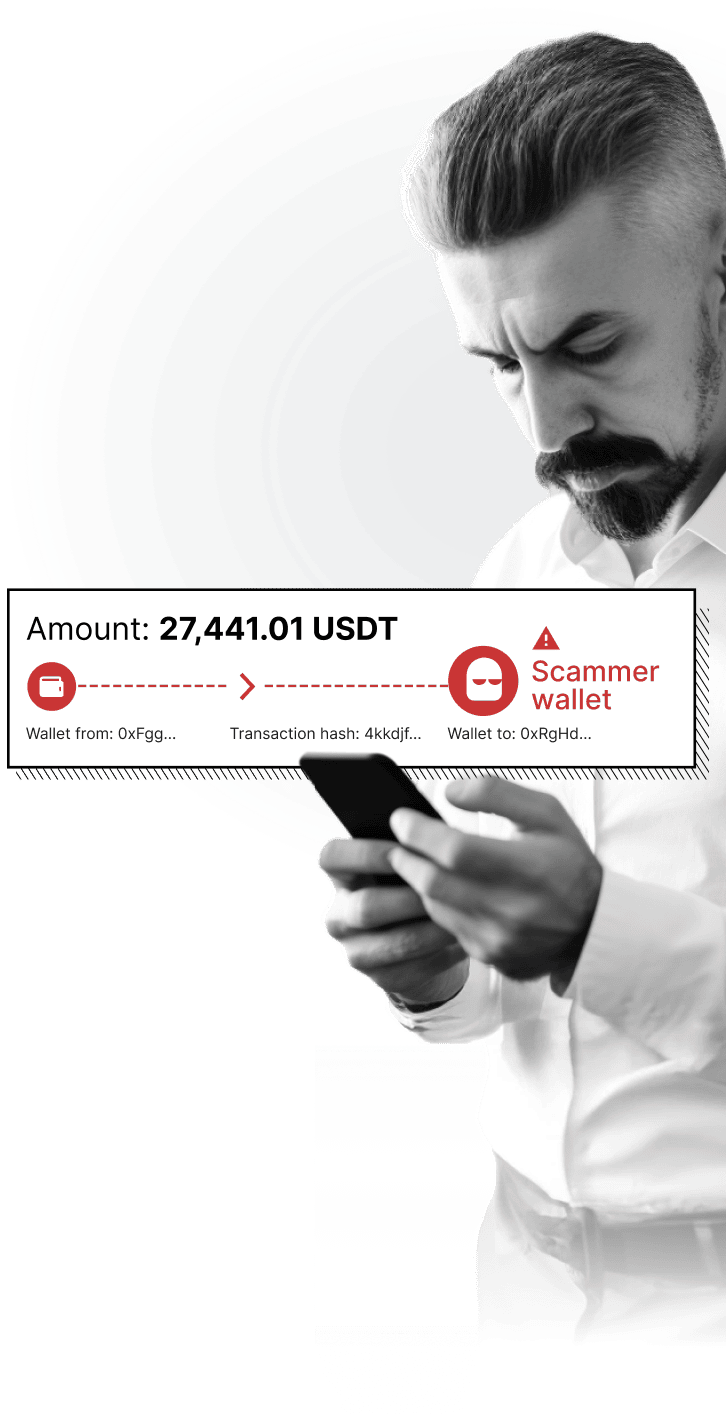 How does the process of returning stolen cryptocurrency work?
Victims share details of the incident verbally and/or in writing. It is important to provide all potential clues that can help the investigation, from wallets to suspicious correspondence and mailings.
Tracking stolen assets
We track cryptocurrency and wallets through specialized software. Transactions in blockchains and DEX/CEX platforms are analyzed. Analyzing bots find even mixed cryptocurrency and mark stolen assets.
Fraud alert
StarCompliance alerts exchanges and issuers to fraud. Suspicious flagged wallets and related transactions (directly or indirectly) are blocked by platforms and issuers on our tip.
Obtaining information about
the scammer
After the investigation, we locate the scammers and their data, which allows us to form a legal basis for the return of funds. Qualified lawyers are involved in the work.
Asset Recovery and
Legal Action
With the gathered information and legal basis, our team of experienced lawyers and asset recovery specialists collaborate to initiate legal proceedings against scammers. We work closely with law enforcement agencies, financial institutions, and other relevant authorities to recover the stolen assets and bring the perpetrators to justice.
Crypto Fraud: Types & Solutions
The basic principles of cryptocurrencies are user anonymity, irrevocability of transactions, and lack of centralized regulation. They make cryptocurrency assets an attractive target for fraudsters, who are sure of their impunity.
SCAM-SERVICES
Unscrupulous exchanges and exchangers, fake online stores, fraudulent casinos and so on.
ACCOUNT HACKING
Attackers hack accounts on exchanges, wallets and other services where cryptocurrency is stored.
PHISHING
Pulling data on cryptocurrency owners through mailing lists and phishing sites.
SOCIAL ENGINEERING
Fraudsters manage to gain access to accounts or directly force cryptocurrency transfers by tricking through dialogue.
FAKE ICOS AND INVESTMENT PROJECTS
Pseudo-projects invite you to make an investment, but then disappear. Their goal is to steal cryptocurrency.
There are other schemes and ways.
StarCompliance will conduct a crypto investigation regardless of how the cryptocurrency was stolen.
Our tools in the fight
against crypto-fraudsters
The StarCompliance team takes a comprehensive approach to recovering stolen cryptocurrency, relying on efficient software and professional compliance experience. Our main tools are:
Tracing software to find your money even if it went through crypto mixers.
Individual Identification Techniques, such as OSINT and legal KYC requests.
Tech-savvy lawyers who can launch a lawsuit and represent you across the globe.
Connection with regulators that allows to work with CEXes at the legal level.
We can involve international law institutions, such as Interpol or AML regulators.
We can perform public coverage of the situation, reducing PR damage.
FAQ
How long does it take to return stolen cryptocurrency?
Few days to a few months
Depending on the case difficulty. Also, the length of the investigation depends on many individual factors.
Do you help investigate cold cryptocurrency wallet thefts?
Yes
We certainly can help you even with cold crypto wallet theft.
Do I have to pay you if you don't return the cryptocurrency after investigation?
No
We only charge customers a fee if the scammer is detected and the funds are returned.
What information do I need to provide in order for you to conduct a crypto investigation?
First of all — a robbed wallet
Specify the wallet from which the cryptocurrency was stolen. Any data that will help us in the investigation process will be helpful.
Why is stolen cryptocurrency so hard to recover?
Because of crypto-world's anonymity
The basic principles of cryptocurrency are anonymity, decentralization and the irreversibility of transactions. Because of this, it is not easy to hold fraudsters accountable. However, our service, StarCompliance, conducts comprehensive investigations using software solutions and legal levers, which results in a high rate of customer refunds.