Track crypto


with professional
AML Officer

An indispensable tool for exchange services, trading platforms, online stores, Financial Institutions and Foundations.

TRY AML Services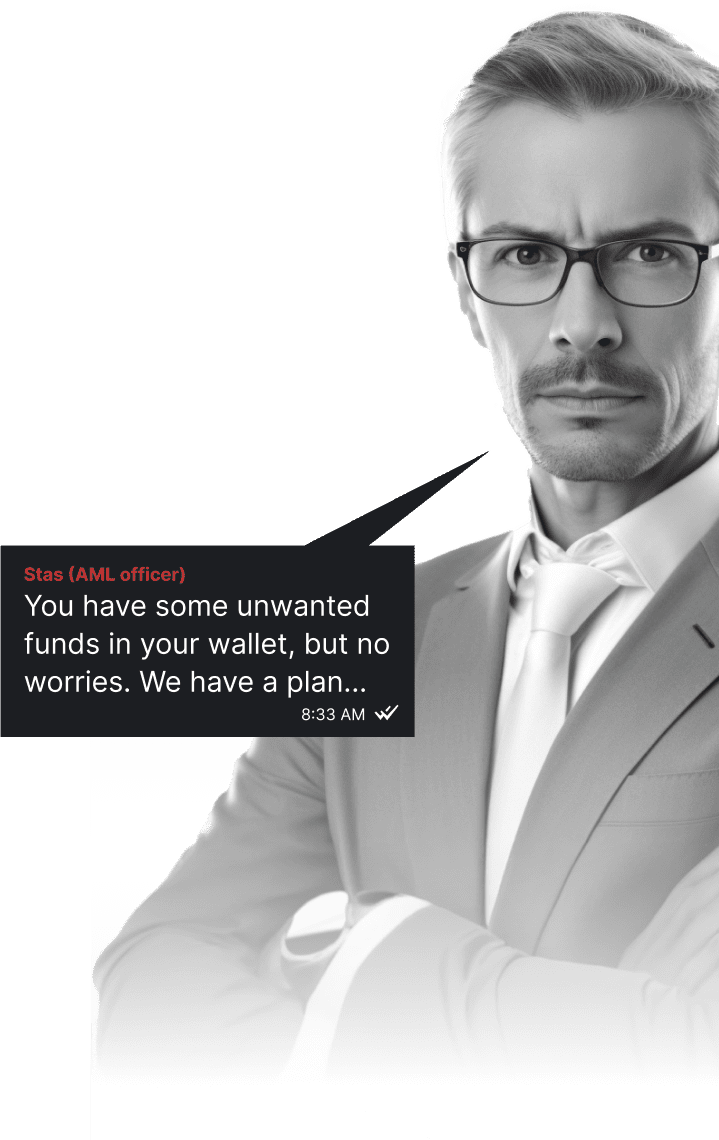 What you get
Affordable and user-friendly AML solution providing 24/7 wallet monitoring, personalized support, and a range of compliance services to safeguard your digital assets against fraudulent transactions.
Simplicity
Connecting to AMLOfficerBot requires no complicated manipulation. We offer a simple interface and notification system to monitor all wallets.
Reliability
We work with dozens of companies and have the necessary certificates.
24/7 availability
Not only the inspection, but also our consultations are available 24/7. You can always contact your personal manager.
Fast
We notify you about dangerous transactions and get in touch with you as quickly as possible upon your request.
Favourable rates
You don't have to pay for every transaction! Wallet scanning costs starting at $5 per month regardless of the number of transactions.
Additional services
We offer other compliance services –report writing, blocking fraudulent wallets, legal advice, unblocking assets and others.
How does
AML Officer Bot work?
Subscription
You subscribe to the required number of wallets. You will need to specify the addresses to be scanned.
Wallet scanning
Thes bot scans absolutely all transactions around the clock. Each transaction is assigned a status.
Manager alerts
In case of contact with "dirty" cryptocurrency, you will be contacted by a manager. It will also be marked by the bot.
Reporting
We can also make a detailed report on a suspicious transaction and help unblock funds.
Legal advice
If necessary, our team provides legal advice to you.
FAQ
Why do I need a dirty cryptocurrency checking service?
To get protected from Scam/Freezing/Blocking
This service allows you to protect your wallet from potential interaction with intruders and scammers and protect it from possible blocking or freezing.
How much does it cost to scan my wallet with AMLOfficerBot?
starts at 5%
This fee for scanning your wallet for a month is regardless of the number of transactions.
How will I know if a transaction is unsafe?
By our notification
AMLOfficerBot will notify you automatically. You will also be contacted by our manager.
Do you assist in unblocking accounts?
Yes
We also provide account/wallet unblocking services, accompanying clients every step of the way.
Can I use your service if I am an individual?
Yes
AMLOfficerBot works with both companies/organizations and individuals. There are no restrictions in this matter.
What cryptocurrency do you work with?
Tether TRC-20
At the moment we work with Tether TRC-20. You can arrange to scan up to 50 wallets at a time.
Dirty Crypto Risks
Direct or indirect association with dirty cryptocurrency can result in the blocking/freezing of an account or wallet. Dirty assets are considered assets that are linked to terrorist financing, money laundering, fraud, sanctions organizations or other illegal activities. Statistically, about a quarter of all wallets involve dirty cryptocurrency in one way or another.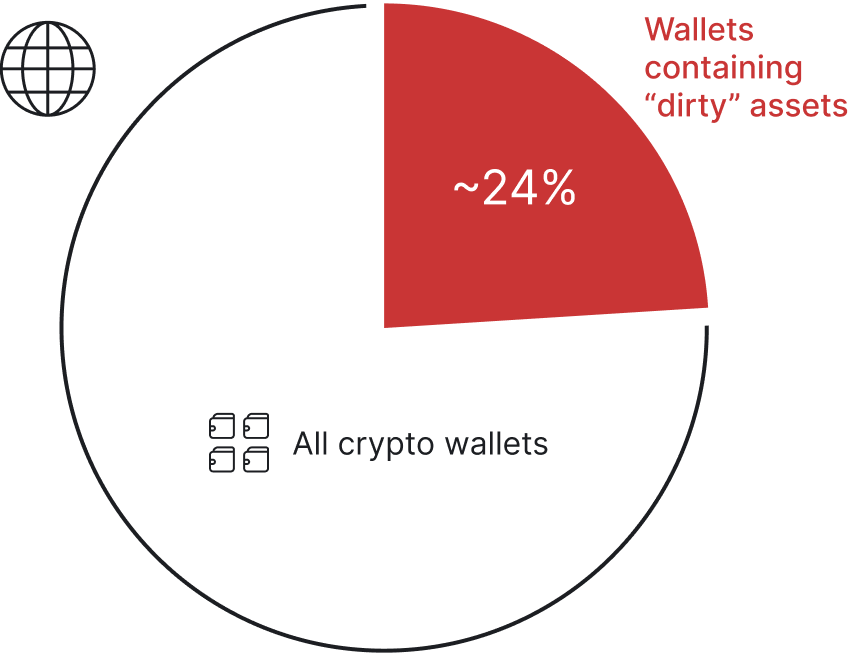 AMLOfficerBot in numbers
50
Number of wallets you can scan with us and managers
24/7
Availability of the service
10,000,000$
Protected money for clients
50+
Customers are already using AMLOfficerBot
Wallet checks per month